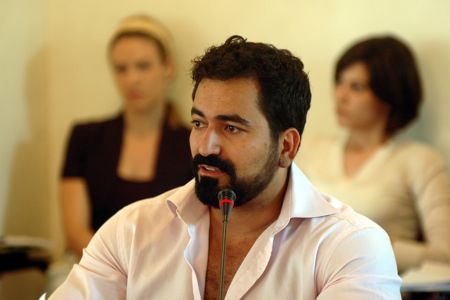 My colleague Nir Rosen, who is also a contributor to The Washington Note, is quickly becoming the preeminent Robert Kaplan-esque chronicler of Islamist insurgencies and conflict.
Rosen's latest piece, "How We Lost the War We Won: A Journey Into Taliban-Controlled Afghanistan" appears in Rolling Stone.
Here is the intro from this fascinating article:
The highway that leads south out of Kabul, the capital of Afghanistan, passes through a craggy range of arid, sand-colored mountains with sharp, stony peaks. Poplar trees and green fields line the road. Nomadic Kuchi women draped in colorful scarves tend to camels as small boys herd sheep. The hillsides are dotted with cemeteries: rough-hewn tombstones tilting at haphazard angles, multicolored flags flying above them.
There is nothing to indicate that the terrain we are about to enter is one of the world's deadliest war zones. On the outskirts of the capital we are stopped at a routine checkpoint manned by the Afghan National Army. The wary soldiers single me out, suspicious of my foreign accent. My companions, two Afghan men named Shafiq and Ibrahim, convince the soldiers that I am only a journalist.
Ibrahim, a thin man with a wispy beard tapered beneath his chin, comes across like an Afghan version of Bob Marley, easygoing and quick to smile. He jokes with the soldiers in Dari, the Farsi dialect spoken throughout Afghanistan, assuring them that everything is OK.
As we drive away, Ibrahim laughs. The soldiers, he explains, thought I was a suicide bomber. Ibrahim did not bother to tell them that he and Shafiq are midlevel Taliban commanders, escorting me deep into Ghazni, a province largely controlled by the spreading insurgency that now dominates much of the country.
Until recently, Ghazni, like much of central Afghanistan, was considered reasonably safe. But now the province, located 100 miles south of the capital, has fallen to the Taliban. Foreigners who venture to Ghazni often wind up kidnapped or killed. In defiance of the central government, the Taliban governor in the province issues separate ID cards and passports for the Taliban regime, the Islamic Emirate of Afghanistan. Farmers increasingly turn to the Taliban, not the American-backed authorities, for adjudication of land disputes.
— Steve Clemons