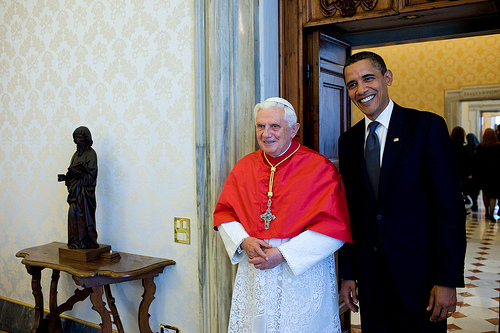 Pope Benedict XVI and President Obama meet at the Vatican (White House Photo)
Patrick Doherty directs the New America Foundation/U.S.-Cuba 21st Century Policy Initiative. This post originally appeared at The Havana Note.
In a well-publicized visit to the island of Cuba, a delegation from the United States Conference of Catholic Bishops this week called on Havana and Washington to "listen to our better angels" and work to end the embargo that has caused decades of unnecessary suffering on the people of both nations.
That's good advice. One can presume that this was the same message spoken directly to President Obama by Pope Benedict XVI in their discussions of Cuba, conversations revealed by Deputy National Security Advisor Denis McDonough to the Miami Herald last month.
Such a conversation would be consistent. Though relations between the originally-atheist Castro government and the Vatican were rocky, the Vatican never withdrew its diplomatic recognition of or representation in Cuba. But the end of the Cold War presented Havana with an opportunity to improve relations, leading to a visit by Fidel Castro to the Apostolic Palace in 1996 and the Pope's visit to Cuba in 1998.
In his farewell address in Cuba, Pope John Paul II said the following:
May nations, and especially those which share the same Christian heritage and the same language, work effectively to extend the benefits of unity and harmony, to join efforts and overcome obstacles so that the Cuban people, as the active agents of their own history, may maintain international relations which promote the common good. In this way they will be helped to overcome the suffering caused by material and moral poverty, the roots of which may be found, among other things, in unjust inequalities, in limitations to fundamental freedoms, in depersonalization and the discouragement of individuals, and in oppressive economic measures – unjust and ethically unacceptable – imposed from outside the country.
— Patrick Doherty