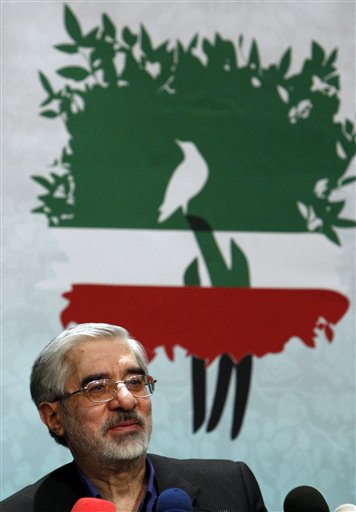 For the last several days, I have been running "dispatches" from an anonymous student in Tehran. Through The Washington Note, he has developed an enormous audience interested in his on-site, real time observations of the post-election convulsions in Iran.
Yesterday, TWN's anonymous blogger had to pick a name in order to appear on the NPR show, "All Things Considered." And today, the New York Times has run a major op-ed by him under the name "Shane M" titled "A Different Iranian Revolution."
I have another dispatch from Shane M — and will post it shortly, but first a few clips from his excellent op-ed.
The first identifies a split within my own organization at the New America Foundation — between my colleagues Flynt Leverett and Patrick Doherty on one hand and Amjad Atallah, Afshin Molavi and myself on the other. Perhaps there are actually three hands rather than two — as I strongly believe that no matter what the eventual outcome of the Iranian election process and its aftermath, the United States and the West must engage Iran over its nuclear ambitions. An isolation strategy will be extremely counter-productive.
That said, as a progressive realist — or what Anatol Lieven would term an "ethical realist" — I am asking my similarly directed realist friends what part of progressive or ethical don't they get? The election process is not over — and one of the many mistakes of the Bush administration was to not identify with the aspirations and hopes of citizens in Muslim societies. To preemptively recognize Ahmadinejad before Iran has resolved its turmoil is to throw America back where Bush had us with Iran — and that's a mistake.
From Shane M.'s essay:
WE look over this wall of marching people to see what our friends in the United States are saying about us. We cannot help it — 30 years of struggle against the Enemy has had the curious effect of making us intrigued. To our great dismay, what we find is that in important sectors of the American press a disturbing counternarrative is emerging: That perhaps this election wasn't a fraud after all. That the United States shouldn't rush in with complaints of democracy denied, and that perhaps Mahmoud Ahmadinejad is the president the Iranian people truly want (and, by extension, deserve).
Do not believe it. Those so-called experts warning Americans to be leery of claims of fraud by the opposition are basing their arguments on an outdated understanding of Iran that has little to do with the reality of what we here are experiencing during these singular days.
Ken Ballen, President of Terror Free Tomorrow, and my colleague Patrick Doherty were both involved in supporting a Terror Free Tomorrow/New America Foundation poll of Iranian political views in early May. Shane makes the point that like "stale bagels a week old" the poll results which were then pointing toward Ahmadinejad were pre-debate and simply caught a snap shot in time distant from what happened on 6-12.
He writes:
Let's also forget the polls, carried out in May by Terror Free Tomorrow: The Center for Public Opinion, that have been making the rounds this past week, with numbers that showed Mr. Ahmadinejad well ahead in the election, even in Mr. Moussavi's hometown, Tabriz. Maybe last month Mr. Ahmadinejad was indeed on his way to victory. But then came the debates.
Starting on June 1, the country was treated to an experience without precedent in the 30 years of the Islamic Republic of Iran: six back-to-back live and unscripted debates among the four presidential candidates. Iranians everywhere were riveted, and the poll numbers began to move.
By the Wednesday before the election, Mr. Moussavi was backed by about 44 percent of respondents, while Mr. Ahmadinejad was favored by around 38 percent. So let's not cloud the results with numbers that were, like bagels, stale a week later. (And let's ignore the claim that polling by Iranians in Iran is "notoriously untrustworthy." A consortium of pollsters and social scientists working for a diverse range of political and social organizations systematically measured public opinion for months before the election.)
Such a major shift has happened before. A month before the 1997 elections, the establishment candidate, Ali Akbar Nategh-Nouri, was trouncing his opponents in surveys. Then, a week before the vote, the tide changed, bringing to power a reformer, Mohammad Khatami.
I will be appearing on a panel on Monday between 3:30 pm and 5:00 pm EST at the New America Foundation (it will stream live here at The Washington Note) about Iran's electoral turmoil along with Terror Free Tomorrow's Ken Ballen, my New America Foundation friends and colleagues Flynt Leverett and Afshin Molavi, and Nader Mousavizadeh of the International Institute for Strategic Studies who has been promoting an "Ignore Ahmadenijad" strategy for our eventual US-Iran negotiations.
Shane M. powerfully captures the sense of transformation and change that 6-12 seems to have brought to Iran. Interestingly, whereas Obama saw Mousavi and Ahmadinejad similarly when it came to the nuclear issue, Shane M. also recognizes the paradox that both political rivals would probably usher Iran towards active discussions and negotiations with the United States. That is what the Iranian people in both camps want.
But there is something greater in the Sea of Green that has spread throughout Iran.
Shane M. writes:
One final note: the election does reveal a paradox. There is strong evidence that Iranians across the board want a better relationship with the United States. But if Mr. Moussavi were to become president and carry out his campaign promise of seeking improved relations with America, we would probably see a good 30 percent of the Iranian population protesting that he is "selling out" to the enemy.
By contrast, support for Mr. Ahmadinejad's campaign was rooted in part in his supposed defense of the homeland and national honor in the face of United States aggression. Americans too-long familiar with the boorish antics of the Iranian president will no doubt be surprised to learn that the best chance for improved relations with the United States perhaps lies with Mr. Ahmadinejad. But Mr. Ahmadinejad is perceived here as being uniquely able to play the part of an Iranian Nixon by "traveling to the United States" and bringing along with him his supporters — and they are not few.
In other words, Iranians believe they face a daunting choice: a disastrous domestic political situation with Mr. Ahmadinejad but an improved foreign policy, or improved domestic leadership under Mr. Moussavi but near impossible challenges in making relations with the United States better.
The truth is, it wasn't supposed to happen this way. The open-air parties that, for one week, turned Tehran at night into a large-scale civic disco, were an accident. People gathered by the tens of thousands in public squares, circling around one another on foot, on motorcycle, in their cars. They showed up around 4 or 5 in the afternoon and stayed together well into the next day, at least 3 or 4 in the morning, laughing, cheering, breaking off to debate, then returning to the fray. A girl hung off the edge of a car window "Dukes of Hazzard" style. Four boys parked their cars in a circle, the headlights illuminating an impromptu dance floor for them to show off their moves.
Everyone watched everyone else and we wondered how all of this could be happening. Who were all of these people? Where did they come from? These were the same people we pass by unknowingly every day. We saw one another, it feels, for the first time. Now in the second week, we continue to look at one another as we walk together, in marches and in silent gatherings, toward our common goal of having our vote respected.
No one knew that it would come to this. Iran is this way. Anything is possible because very little in politics or social life has been made systematic. We used to joke that if you leave Tehran for three months you'll come back to a new city. A friend left for France for a few days last week and when he returned the entire capital had turned green.
Read the entire piece.
I'm proud of our anonymous student who has been sending his dispatches to TWN's many readers and has now gone big time at the New York Times.
Another dispatch from Tehran soon. . .
— Steve Clemons