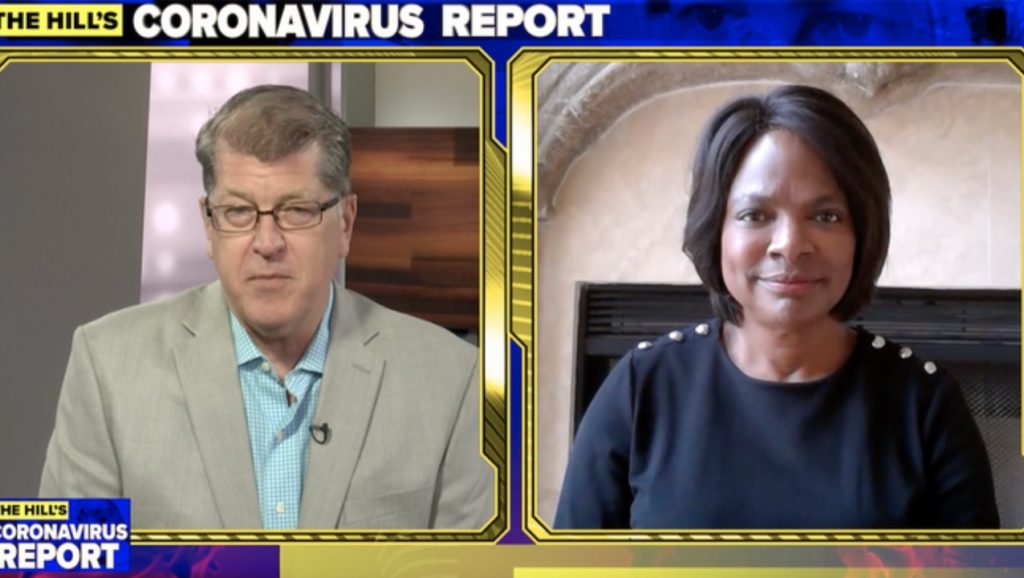 Last week for The Hill I interviewed former Orlando Chief of Police and current U.S. House of Representatives Member Val Demings about her views on Covid-19, the reactions to the murder of George Floyd around the nation, to a jobless figure of more than 40 million unemployed, and the deep divisions that are consuming our energies right now. Not jokingly, she acknowledged all of this, and then said, "Oh by the way, it's hurricane season." There is a lot going on.
The entire video is so worth watching — but among the things that stood out to me were her comment that 'racism is a virus' and that we need to think about the problem of systemic racism in terms of public health. And then she said something that either Vice President Biden should grab and make part of his campaign — or the Trump White House should as it makes so much sense.
She suggested that we create in the Department of Justice "an Office of Police Standards, or Law Enforcement Standards." She spoke about the need for police departments to recruit those with the best minds and hearts and that they needed to be trained well. She said it all starts with training, and that our post-9/11 efforts to transfer military equipment and techniques to police departments has resulted in some of that equipment, and that training, being used against America's citizens — and that was not supposed to happen.
An office of law enforcement standards doesn't fix everything that is problematic in today's policing environments, but the brutality we are seeing against people of color over and over again — and that which we have seen against protestors in the last several days — calls out for some discussion of law enforcement benchmarks. I saw many police "take the knee" in the last week, and unify with protestors about their concerns — but I also watched the case in Buffalo, New York where officers pushed over a 75 year old man and then walked past him as he lay still and bleeding on the ground. 57 of their officers have resigned to stand by the disciplined officer.
Which of those Buffalo officers would resign because of the treatment of that 75 year old man? The answer is zero. I get that they care about their colleagues, their brothers and sisters in blue as Demings calls them, and want to show their loyalty to them — but to reform, and to be trusted, they are going to have to demonstrate loyalty to citizens they are sworn to protect. There has to be push back and new norms established for policing. There is too much that is wrong in today's police departments for officers to think that they have no culpability or responsibility for today's situation.
Representative Demings' suggestion is smart and practical — and it deserves much more discussion on both sides of the political aisle.