Free Videos by Ustream.TV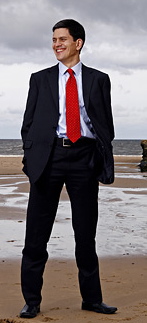 My favorite foreign minister/blogger, David Miliband — who serves as Foreign Secretary of the United Kingdom — will be having a conversation today at the New America Foundation with a unique group of Transatlantic Young Leaders who are part of the British Council's new TN2020 project. I have invited about 40 other American and European bloggers/journalists, business people, Hill and administration staff, and social and political activists.
Miliband will also be giving a major speech today at the Center for Strategic and International Studies. I'll post the text later on The Washington Note, but I know that his primary theme is going to relate to how the "democratization agenda" — the commitment of the West to liberal values, justice, healthy and balanced civil society, to human rights — can be salvaged from a decrepit and tarnished state in the post-Iraq War, post-Abu Ghraib, current-Guantanamo era we are in.
I'm probably more blunt than Miliband can politically afford to be — but that's what he's essentially going to talk about today. And it's a subject that should occupy the attention of all reasonable leaders concerned with the unhealthy dysfunction that exists today between liberal political democracies and illiberal regimes, between developed nations and undeveloped, between strong states and states that feel part of their governing structure dissolving into transnational grievance movements.
Miliband is a much discussed favorite to potentially succeed (eventually) incumbent British Prime Minister Gordon Brown, though I imagine people actually saying that doesn't add much to Brown's enthusiasm for the idea and means that the political animal that Gordon Brown is may be on edge as Miliband demonstrates in intellectual, policy, and political agility that few European leaders have today. He's also been rumored as a potential successor to High Representative of the European Union for the Common Foreign and Security Policy Javier Solana — perhaps a rumor that Gordon Brown has helped launch.
In any case, Miliband is impressive — and he's a blogger, and we look forward to hearing his thoughts today.
For those interested in even more, here's a good clip of Miliband on the Charlie Rose Show.
YOU CAN WATCH LIVE on this site (in box above) from about 10:30 am EST until 11:30 am. I have asked Andrew Sullivan of the Daily Dish and Washington Post staff writer Nurith Aizenman to offer comments on David Miliband's presentation today.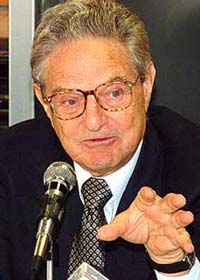 Then jumping to London and the London School of Economics, George Soros will be speaking about the global financial crisis and his thoughts on what we should do about it from 12:00 pm EST until 1:00 pm — and this too will run live on The Washington Note. It is best to watch Soros here.
Soros has repeatedly addressed the problem of credit default swaps — an unregulated $42 trillion sector of synthetic derivatives — that he thinks could be "the next shoe that drops" in potentially aggravating global economic calamity. Soros is absolutely brilliant in talking about the nuts and bolts of the global economic system and the tension and play between central bankers and those making the markets move.
For those interested in going further, take a look at Soros's new book, The New Paradigm for Financial Markets: The Credit Crisis of 2008 and What It Means. Here is an audio file of a New America Foundation conference call I did with George Soros recently on the book.
So, watch here, listen, learn, and then write to your Congressman asking for hearings on the credit default swap industry.
— Steve Clemons
Continue reading:

Medvedev Pushes for Rule of Law
John McCain's Spoof of Democratic Battle